See in person this prehistoric monument constructed 2500 BC. Stonehenge's ring of great standing stones is located in Wiltshire – 2 miles west of Amesbury. This place is a total must on your must see list when visiting Great Britain.
---
---
In 1882 the object as the first in the country was legally protected. Four years later Stonehenge was added to UNESCO's list of World Heritage Sites. The owner of the treasure is the Crown. However this is English Heritage and National Trust that manage the whole area around.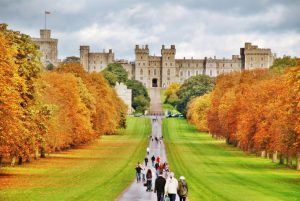 Take this one of our most popular tours to this one of the most  famous and most mysterious sites in the universe. You can choose whether you want to visit the place with our professional tour guide or you'd rather take an audio tour and sightsee at your own pace.
The next part of the trip is visiting Windsor, Berkshire. What the city is best known for is the Windsor Castle which since 1110 has been serving as a royal residence. People from all over the world visit the object which except its royal meanings is also an excellent example of architecture. All the english monarchs used to live in the palace which is actually the longest-occupied palace in Europe.
Also, Windsor Castle is the largest inhabited castle in the world! It is worth mentioning the castle was used as a military headquarters during the past wars. Fortunately, the object has never been harmed or damaged and today we can still admire the beauty of the past centuries.
Highlights
Visit Stonehenge – the most famous site in the world.
Take a walk along the Windsor Castle halls.
See the Royal Family residence.

Buy a souvenir in one of many charming souvenir shops.

Eat traditional corn cake in a sweet cafe in Windsor.
We offer
professional tour-guide

sightseeing with audio-guide

full assistance of our driver

door-to-door service

value for many

parking and fuel costs included
---
---